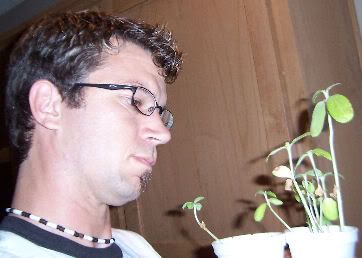 So my wife and kids left for the east coast yesterday. I'm a bachelor for a week. It's not all that bad. I'm really busy the whole time. Doing a wedding. Leading worship at a church. Metting with a bunch of people. Usually I have the week free to do some projects around the house when she goes. Not that I don't mind not "having" to do a project. It's just that I love doing projects without Jeanne-Ann knowing I'm doing it. If she doesn't know I'm doing it, there are no expectations.
So here I sit with no real time to do any sort of project. Jeanne-Ann left me with a list of to dos. The biggest thing is to plant some plants the kids got at the AG Fest. So here I go. I will plant those on Sunday. We'll see how it goes. Maybe I'll post some pics. :)
Hmm...what will I eat tomorrow?